Mark Campbell,Editor – Azle News
I went to an earthquake meeting and a religious revival broke out. Only the anti-oil and gas faction that attracted hundreds to 404 West Main Street Jan. 13 in Azle weren't preaching the Goods News – proclaiming to shine a light on the evil political devils down in Austin who were clearly a plague on the good people assembled!
Like a revival, the well-oiled non-profit machine whipped up potential converts into frenzy.
Special speakers – why, one had driven all the way from Dallas, imagine negotiating that distance and down the Jacksboro Highway even… what a miracle! – descended on Azle like locusts.
They declared that they were just like the audience – sick of those elected representatives who thought of themselves as rulers who dashed regulation legislation 100 percent of the time while lining their pockets with oil and gas money.
The Bad News trumpeters bombarded the assembled with facts and figures as dizzying as any itinerant preacher strafing Bible verses among tented listeners.
Each speaker drew applause whenever denouncing Austin or local representatives. Like plants in a faith healer's revival, the Bad News crew, had their own scattered throughout the building.
Whenever audience attention lagged, a lady near me would burst into applause at a mundane point, her ear-piercing clapping picked up by cohorts with the entire gathering eventually joining in.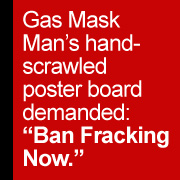 A guy in a gas mask stood around like one of those fellows hired to dress up in a gorilla suit and dance in front of a used car lot; Gas Mask Man's hand-scrawled poster board demanded: "Ban Fracking Now."
After the Bad News was drilled and reiterated into the buzzed crowd, it was time for the altar call. Who would answer? New disciples jumped up, professing their devotion into the microphone of a speaker who had bolted into the audience, then rushing to the stage – in full view of the Metroplex TV cameras, of course. The new followers were anointed as Azle's "steering committee" and charged with continuing the spread of the Bad News.
All that remained was to pass the plate. The gathered were informed that a bus full of Azle residents, now clearly educated with the truth, would take Austin by storm! Heck, from what they were seeing from the stage, it might take two, five, or even 10 buses to hold everyone! The crowd went wild.
Now, a love offering (as we Southern Baptists say) was necessary, of course. While a generous "anonymous" donor was helping pay for the bus and even the Sierra Club was pitching in, it would be necessary to pay $15 each to secure a seat on the bus. "Wait, what?" said a few lukewarm members. But what a small price to pay to get your voice heard in that Central Texas political den of iniquity?
Soon, armed with paperwork and postcards to send to elected officials, the born-again believers walked out into the brisk New Year air, invigorated by the Bad News.
And, verily, the Bad News locusts flew away to alight… who knows where next?
Just maybe, however, the Azle faithful should pause and keep gathering some pertinent, local information from additional, reputable sources so they'll be well armed with bona fide scientific facts and figures when they arrive at the Capitol.
Can I get an Amen?
Mark Campbell is Editor of the Azle News located in Azle, Texas about 25 miles NW of Fort Worth. Azle is near the epicenter of 32 mild earthquakes in the last two months. Permission was granted to reprint the above editorial from the Azle News January 13, 2014. The opinions expressed are solely of the author. Mark Campbell can be reached at (817) 270-3340 or markcampbell@azlenews.net.