NEW OGI FlexMap is here!
The latest generation of OGI's GIS Web App is super fast and powerful. Try the NEW Liberty County FlexMap, now!

Put your county online today with OGI's new GIS web app. It's Google and Yahoo map fast! And for a limited time, have OGIgov do a complete GIS base map of your county and we'll put it online for free*.
This is at least an $1,800 a year value. By contracting OGI to do your GIS, you can at the same time and for free, make your county data available to taxpayers over the web and get state compliant.

The NEW FlexMap will simplify your geospatial analysis through overlapping, data-rich, searchable layers like: Aerials,topographic lines, NexRad, city limits, parks, water bodies, flood plains, trash cleanup, river, voter precincts, commissioner precincts, council districts, ISD, Board of Trustees voting districtrs, roads and major streets, bridges and railroads, census blocks, lots, subdivisions, abstracts, census tracks, oil & gas wells, pipelines, development projects and call/search-before-you-dig.
(Check out the NEW Liberty CAD FlexMap)
From your in-house GIS mapping our OGIgov Specialists we'll make a custom web application with your desired layers so that people can use it for general information or analysis. Get your county map online easier and faster with OGIgov.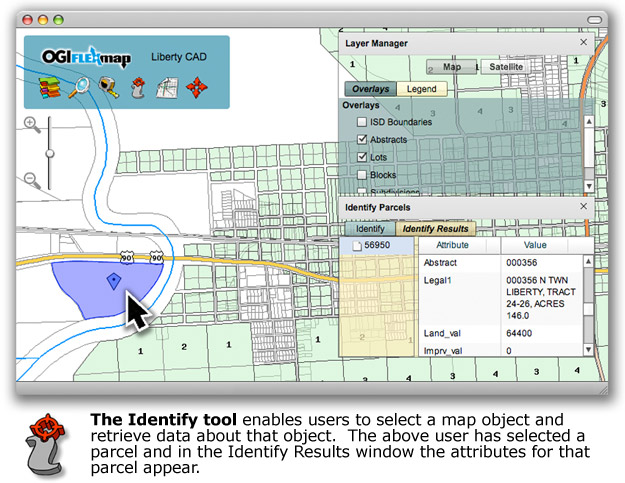 Benefits:
• Map-assisted valuations
• State compliance
• Online geospatial analysis
• Reduce foot traffic when customers are directed to your map
• Prepare for dispute hearings
• Expand 911 Emergency Response Systems

OGIgov web based county maps enhance your productivity, reduce your costs, and improve your organizational efficiency. Get your county parcel data, street data, and satellite imagery online now for FREE*.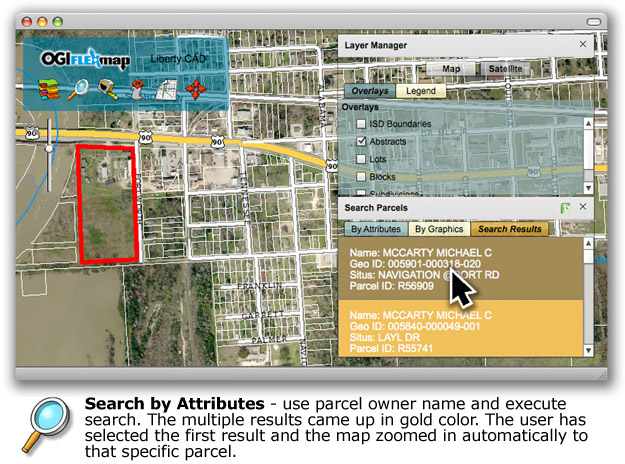 Call 361-904-0071 TODAY and have OGIgov put your county map online. Or email Jeff Chilcoat, CAD Liaison.